Is it Weird to Fight Over an Athlete's Used Towel?
The big ball wanging tournament that washing powder companies love is well underway. It's Wimbledon tennis time, and one of the stories that tickled the internet's controversy bone was the apparent stealing of a towel.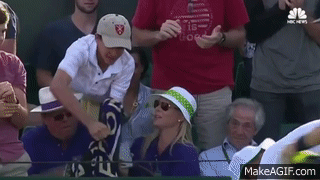 Shortly after Jack Sock's match against Christian Garin a young fan asked for his towel – presumably as a memento, as there was no signs of moisture on the boy. Sock dutifully flung his absorbent fabric the boy's way, only for it to be snatched by a creature from the great pit of despair. Sorry, that's meant to say 'man'.
We don't care who should get it, what's more interesting is that they both clamoured for a man's sweaty towel.
---
So is it weird to fight over an athlete's used towel?
Tim
Yes.
I am weirded out by wanting something purely because someone famous has touched it, especially if it involves secretions.
Isn't it weird that we only want towels from sports stars? I know a lot of people who love Les Dennis, but you wouldn't want one of his towels. Sorry Les.
It's not just limited to sports, people love this stuff: Locks of hair from musicians, clothes worn by actors in films, and recently someone bought a cigar that had been chewed by Winston Churchill. But for why? To look at? To smell? To spark conversations at parties? The only thing a chewed cigar is good for is ruining a good hotdog buffet.
So where do you draw the line with this one? Harry Styles' chewed gum? Bono's drinking vase? Paving slabs that Bananarama walked on last Tuesday?
Listen, no matter who your idol is, they have bodily functions and quite frankly they probably smell. Just get an autograph or even selfie, it's much more hygienic. Basically what I'm trying to say is this: Les Dennis, stop sending me your towels.
---
Simon
Nah mate.
If you want a piece of memorabilia which holds great significance, good for you. I'm right there with you – especially if it's dripping with the sweetest, freshest, most fragrant sweat known to mankind. Where else do you get an unfettered supply of celebrity juice? Nothing marks a significant event quite like a memento marked with scent. I'd go as far to say that I don't want anything unless someone famous has already touched it.
A towel touched by Rafa Nadal you say? Yes please, and wring it out into this mug. My oh my, is that a shovel that's been rubbed up against Alan Titchmarsh's belly? Which end was rubbed… I don't care, I'll take it! Oh, is that a cheese sandwich? I don't want that, it's not even been licked by Meatloaf! I'd argue that the price of absolutely anything doubles by the mere addition of a famous touch. One day you'll all see the world through my eyes. Probably because when I'm a famous man, I'll demand that all contact lenses and glasses in the world have been personally rubbed against my eyeballs, just as I mysteriously take over the optometry industry, driving prices sky-high, making me an instant trillionaire. Then you'll see.
And that's why fighting over a used athlete's towel is definitely not weird. Now bring me Les Dennis' towel.
---
What do you think? And perhaps more interestingly what do you have in terms of weird memorabilia?